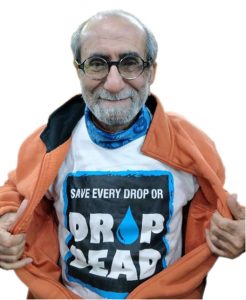 Septuagenarian writer and artist Aabid Surti is the founder of Drop Dead Foundation, an NGO (Non Government Organization) that repairs minor plumbing problems such as leaks in the households of Mumbai, India for free.
Born 5 May 1935 in Gujarat, Aabid obtained a Diploma in Arts from Sir J. J. Institute of Fine Art in 1960. He published his first novel Tootela Farishta (Fallen Angels) in Gujarati in 1965. Since then, Aabid has written a number of short stories, novels, plays, children's books, comic books, and travelogues. In 1993, he won a National Award for his short-story collection Teesri Aankh.
In 2007, Aabid launched Drop Dead Foundation after a leaking faucet at a friend's house bothered him so much and caused an epiphany. Since then, Aabid's Drop Dead team (consisting of a plumber, a volunteer, and Aabid himself) makes the rounds every Sunday fixing plumbing leaks in the Mira Road suburb where he lives. Today, Drop Dead Foundation continues to provide free plumbing services to Mira Road(Mumbai) households.