Meet The Brave One
Bahadur (The Brave One) is the first Indian comic book Super Hero created by Aabid Surti in the year 1976. Incidentally Bahadur appeared on the scene when dacoit menace was at its worst in north India. So the focus of most of the earlier stories is on this problem.
Bahadur himself was the son of a ferocious bandit called Bhairav Singh who died in an encounter with a police officer called Vishal. Our Bahadur, then a young boy, was groomed by his widowed mother, who kept on poisoning his mind to take revenge of his father's death- kill Vishal the SP who had shot dead his great father.
When Bahadur became mature, patiently Vishal made him realize that a cold blooded murderer, ruthless brute his father was.
Upon growing up, Bahadur set up CSF (Citizen's Security Force) to defend his village and also help the men in uniform to track down criminals hiding in Chambal ravines. Though Bahadur dealt sternly with outlaws, he had a soft corner for those who wanted to come back to society and live peacefully as proud citizens of the soil. One of his right hand man, Lakhan was a reformed bandit. After surrendering to the law, he started helping Bahadur in curbing crime.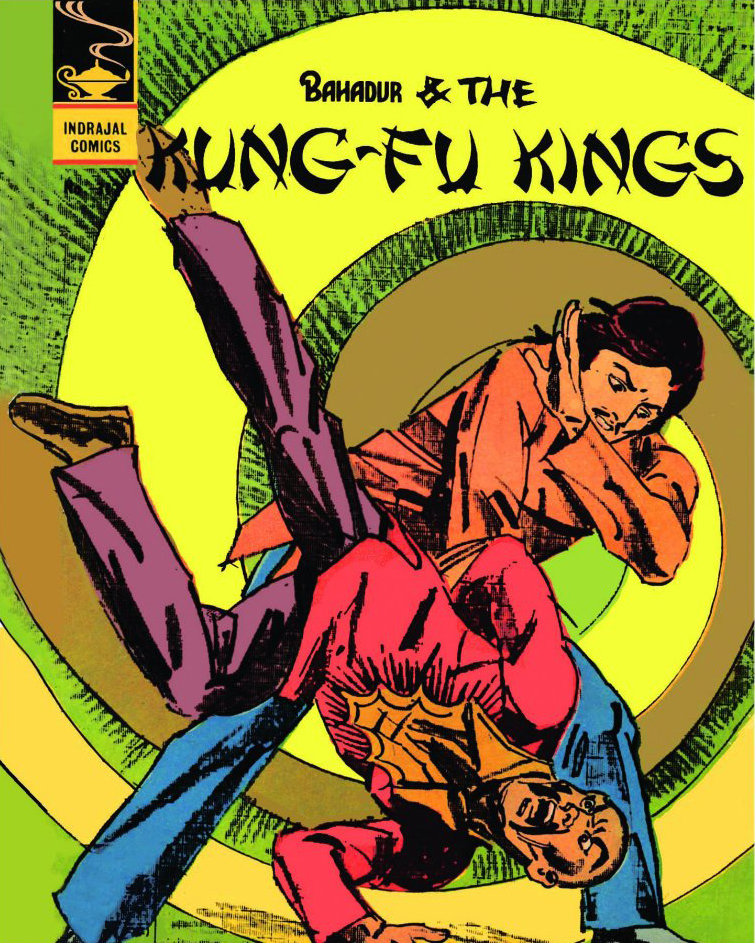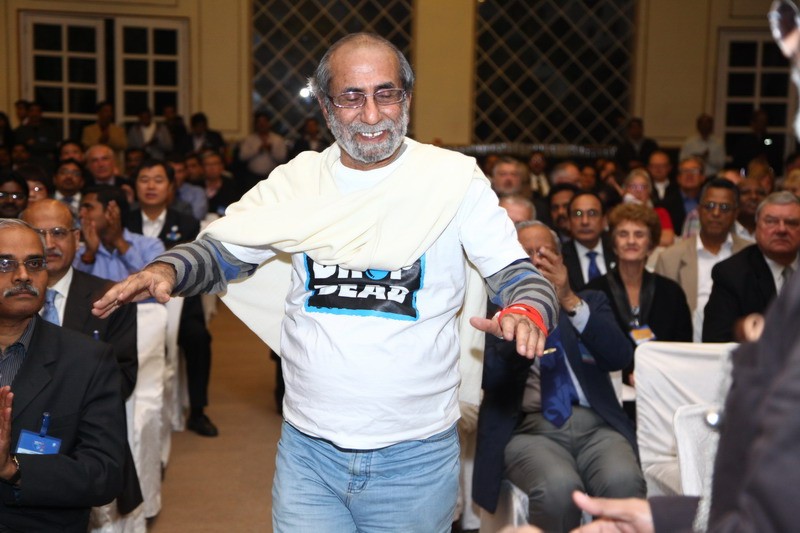 National Award-winning author Aabid Surti has won critical acclaim for multiple creative talents. As an author his output has been prolific. He has written around 80 books till date, which have been translated into almost every Indian language. As a screen writer he has been associated with internationally known directors like Raj Khosla and Raj Kapoor on film projects and as a playwright, he has penned 7 plays. Radhe Radhe Hum Sub Aadhe is one of his most successful play of 1980 and still going strong in other metropolis. In 1971 The Films Division (Government of India), commissioned a short film titled ABID to showcase his creative work. As a cartoonist, he created the lovable simpleton Dhabbuji. This highly original and the most popular cartoon strip of an uncommon man was published without a break in the The Times of India's Hindi periodical Dharmayug and still going strong in comic form.
As the illustrator of the first Indian comic book super hero 'Bahadur,' Govind Brahmania will always be remembered by all his fans around the world. 'Govindji' as his colleagues and friends used to address him, started kala yatra, art journey right from the childhood. He graduated from Sir J.J. School of Arts in 1964. Though a shy and humble person, his talent couldn't remain unnoticed for long. His first job was at Indrajaal Comics Department of The Times of India (Mumbai) as an illustrator. Destiny brought Aabid and Govind together to create history in the comic indutry.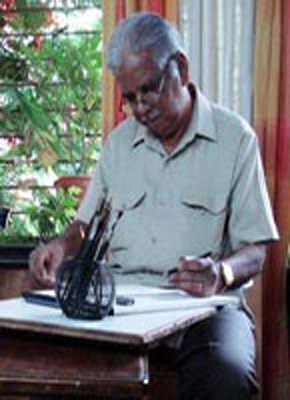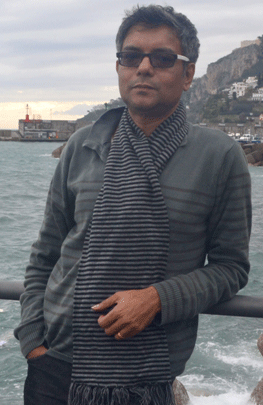 Living up to cultured family's high traditions in art is not an easy task. Pramod Brahmania, the son of Late Sri Govind Brahmania, was born in a family of eminent advertising professionals and illustrators. Naturally it took him quite some time to carve out a niche for himself in the creative field, specially drawing and illustrating books and comics. His work was so dynamic that he was invited to join renown advertising agency of Mumbai even before he could complete his graduation from Sir J.J Institute of Applied Arts. In brief he was a born artist.
The Legend of Aabid Surti
Abid Surti is perhaps a hero to all of us who have grown up in the 90s, devouring a steady supply of cartoons in newspapers and magazines. An author, a painter, a cartoonist and a screenwriter, Surti will always be remembered for the numerous lovable characters he created for children over the past few decades. With the publication of his first cartoon Rang Lakhudi in a Gujrati magazine in 1952, he became one of those very few cartoonists whose works were devoid of political commentary in that era...
Read more...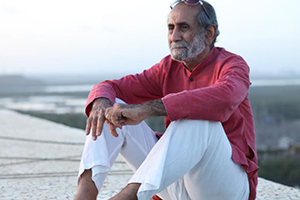 Introducing : Bahadur!
India is a country in which the population like a slowly swirling tornado continuously moves from the villages to the major metros where the jobs are. A huge chunk of the population still lives in villages and small towns and in the 70s this proportion was even higher. The problem of lawlessness was abound and a major issue was dacoits. A reflection of this is also in the most popular Hindi film of all time. And for the initial period Bahadur's comics (set in a small town) were focused on Dacoits.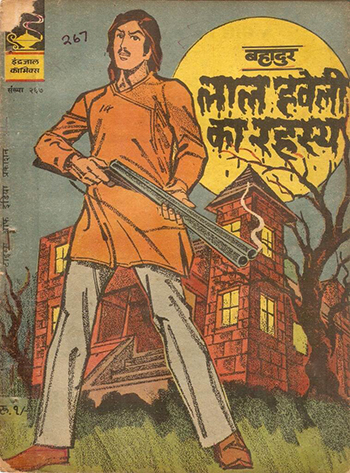 The story of Bahadur Rameen Khan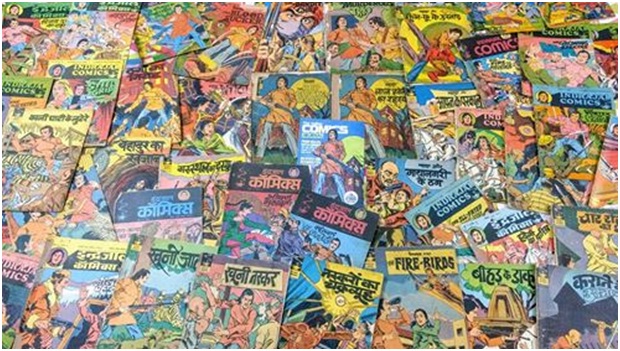 The story of Bahadur - the first indigenous hero of indian comics lies in the persistent problem of dacoity in Chambal region. His creator , AabidSurtiwhile researching into the issue (mainly via a book called Abhishapt Chambal) realized that the root cause of it was lack of adequate police chaukis which was 1 in 100 villages and slow communication .So by the time a chauki was apprised of the presence of dacoits in a village , they had already done the job and escaped Surti made Bahadur the pivot who would solve this problem . A wayward youth in his youth , son of a slain dacoit and an evil mother , he was redeemed by the same police chief who killed his father.
Bahadur would go on to established Citizen
Security Force in which villagers would train themselves to fight the dacoits instead of waiting for police to arrive. A novel and truly far sighted concept which deserved real implementation Bahadur would also fall in love with Bela , a skilled fighter herself and in every way his equal. Throughout the run they were in a live in relationship ,never marrying. Another depiction far ahead of its time Bahadur would run for 75 issues closing down in 1990 While everyone keeps getting wowed by Thor Ragnarok or Wonder Woman movie , it would be nice to remember that we gave a modern hero , who rose from.among the people having turned his life around
Aabid The Creator
Comic Con 2015: Life Time Achievement Award
SRK Says
Appreciation Right From The Horse's Mouth
*Curtsey: Q2S-Khoji Films
The Award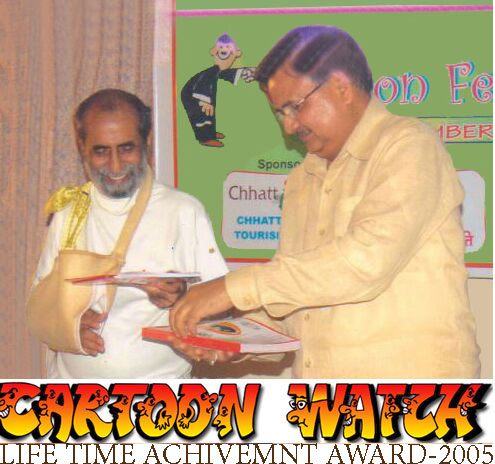 The Uncommon Man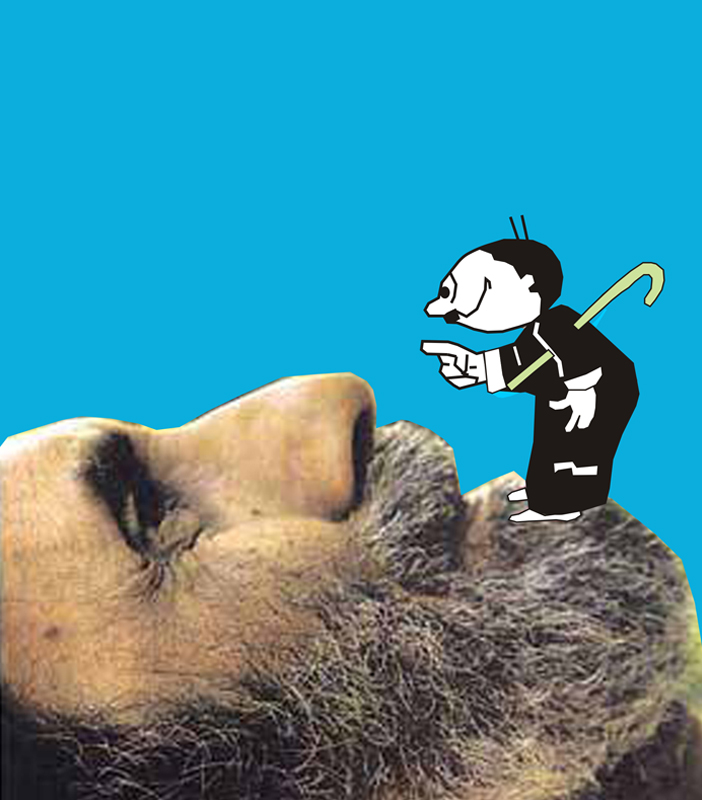 Comicstrip of Dhabbuji, the uncommon man entertained young and old alike non-stop for 30 years in Dharmayug, The Times of India's Hindi Periodical.
Photo : Ravi Shekhar
Aalif Speaks
*Curtsey: Q2S-Khoji Films
The Top Position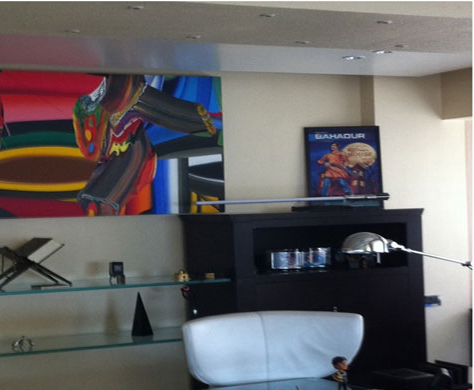 Bahadur is proud to be part of the décor in Bollywood super star Shah Rukh Khan's office
Shukla and Surti
*Curtsey: Amar Ujala Interview